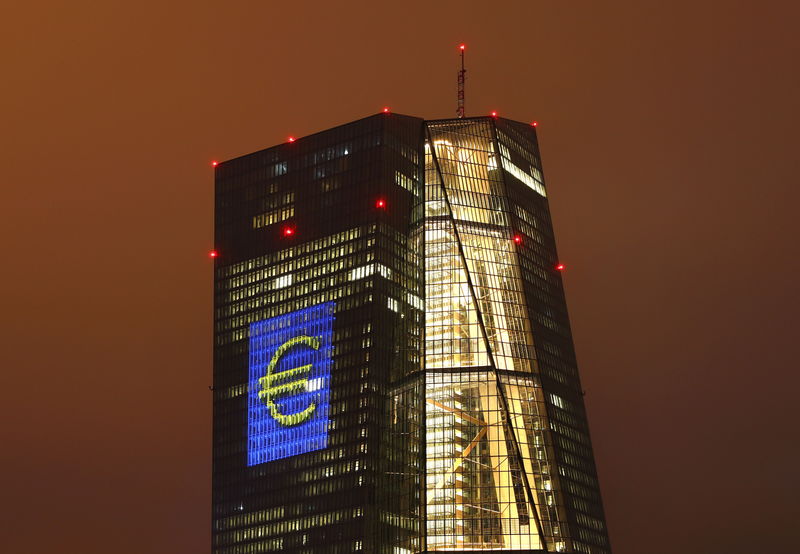 © Reuters. Bonds Surge, Euro Declines as ECB Unveils Open-Ended Debt Buying
(Bloomberg) — Italian bonds led a regional debt rally and the euro fell after the European Central Bank cut interest rates and announced a fresh program of open-ended asset purchases to support the region's ailing economy.
The common currency slid toward a two-year low as the monetary institution said it would lower its deposit rate by 10 basis points to -0.50% and expand its 2.6 trillion euro ($2.9 trillion) bond-buying program from November at a pace of 20 billion euros per month. The ECB also said it would introduce a two-tier system for negative rate policy.
Italian bonds led the rally across euro-area debt, with 10-year yields sliding to a record low. The nation's bonds will be among the major beneficiaries from a restart of the quantitative easing program, while the ECB is closer to its purchase limits in countries such as Germany. Yield curves across the region flattened.
"The ECB's has delivered on all fronts — a new QE program, policy rate cuts, easier terms of TLTROs and tiering," said Pooja Kumra, European rates strategist at Toronto-Dominion Bank. "The size of QE and cut did come as a bit of disappointment, But we think rally is supported by the persistence of long-term easing by ECB."
Bond yields across much of the euro area dropped into negative territory this year amid expectations for more stimulus from the ECB in the face of growing geopolitical risks from Brexit to the U.S.-China trade war. The euro touched its lowest level in over two years earlier this month.
The shared currency was 0.5% weaker at $1.0959 as of 1:15 p.m. in London, just above a two-year low of $1.0926 touched earlier this month. German 10-year bond yields dropped eight basis points to -0.64%, while Italian equivalents plummeted as much as 19 basis points to 0.78%. Yields on 10-year Treasuries dropped five basis points to 1.69%.
"Markets like the opened-ended QE," said Arne Lohmann Rasmussen, head of fixed-income research at Danske Bank A/S. "It's very positive for semi-core and periphery given the open-ended QE."


Source By Breaking News Website | BreakingNews.WS