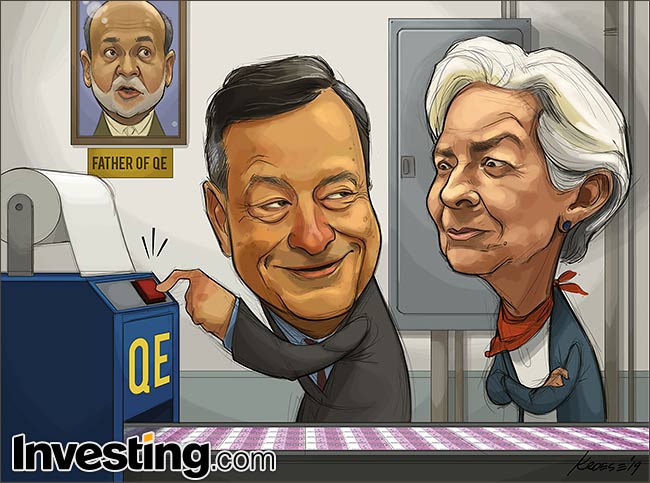 By Jesse Cohen
Investing.com – The European Central Bank (ECB) announced fresh stimulus measures on Thursday in a bid to stimulate the ailing euro zone economy.
Mario Draghi, in his final meeting as ECB President before Christine Lagarde takes over in November, announced that the central bank would cut its main deposit rate by 10 basis points to -0.5%, in line with expectations.
"The Governing Council now expects the key ECB interest rates to remain at their present or lower levels until it has seen the inflation outlook robustly converge to a level sufficiently close to, but below, 2% within its projection horizon, and such convergence has been consistently reflected in underlying inflation dynamics," the ECB said in a statement.
The ECB also announced that it will restart its quantitative easing (QE) program on Nov. 1 to the tune of €20B per month for as long as it deems necessary.
"The Governing Council expects (bond purchases) to run for as long as necessary to reinforce the accommodative impact of its policy rates, and to end shortly before it starts raising the key interest rates," the ECB said.
The ECB also eased the terms of its long-term loans to banks and introduced a tiered deposit rate to help banks.
To see more of Investing.com's weekly comics, visit: http://www.investing.com/analysis/comics
— Reuters contributed to this report


Source By Breaking News Website | BreakingNews.WS