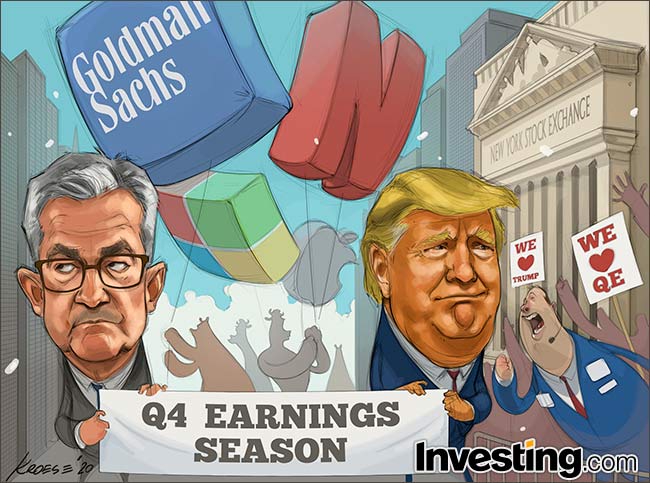 By Jesse Cohen
Investing.com – Wall Street's fourth quarter (Q4) earnings season kicked off this week, with 24 companies having set to report their latest results.
Bank earnings took center stage this week, with the major Wall Street lenders such as JPMorgan (NYSE:JPM), Citigroup (NYSE:C), Wells Fargo (NYSE:WFC), Bank of America (NYSE:BAC), Goldman Sachs (NYSE:GS) and Morgan Stanley (NYSE:MS) all reporting.
Looking ahead, next week marks the first busy week of the fourth-quarter earnings season, with many of the big-name U.S. technology stocks, such as Netflix (NASDAQ:NFLX) and Intel (NASDAQ:INTC) set to report.
The week after that then sees high-profile companies such as Apple (NASDAQ:AAPL), Microsoft (NASDAQ:MSFT), Facebook (NASDAQ:FB), Advanced Micro Devices (NASDAQ:AMD), Tesla (NASDAQ:TSLA), Boeing (NYSE:BA), Caterpillar (NYSE:CAT), and McDonalds release their quarterly results.
Other notable names set to report in the weeks ahead include, Beyond Meat (NASDAQ:BYND), Alibaba (NYSE:BABA), IBM (NYSE:IBM), eBay (NASDAQ:EBAY), PayPal, Qualcomm (NASDAQ:QCOM), Procter & Gamble, Johnson & Johnson, 3M (NYSE:MMM), General Electric (NYSE:GE), UPS, Coca Cola, Visa (NYSE:V), Mastercard (NYSE:MA), American Express (NYSE:AXP), Starbucks (NASDAQ:SBUX), AT&T, Verizon (NYSE:VZ), Comcast (NASDAQ:CMCSA), Lockheed Martin (NYSE:LMT), Raytheon (NYSE:RTN), Northrop Grumman (NYSE:NOC), United Technologies (NYSE:UTX), Exxon Mobil (NYSE:XOM) and Chevron (NYSE:CVX).
U.S. equities rose on Wednesday, with the Dow closing above the 29,000-level for the first time ever.
The party looks set to continue Thursday, with Wall Street's major indices edging further into record high territory.
To see more of Investing.com's weekly comics, visit: http://www.investing.com/analysis/comics
— Reuters contributed to this report


Source By Breaking News Website | BreakingNews.WS