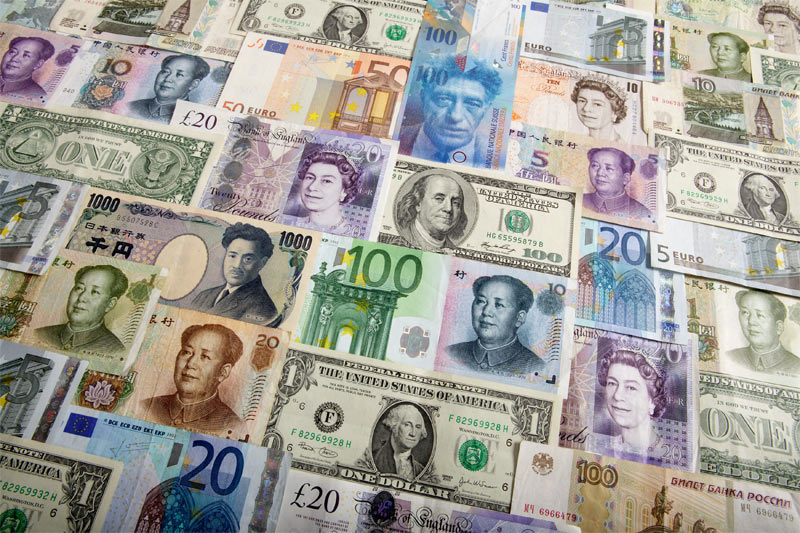 Dollar remains slightly lower vs. rivals after jobless data
Investing.com – The dollar remained near session lows against a basket of other major currencies on Thursday, after data showed that the number of Americans filing claims for initial jobless benefits rose more than expected last week and markets turned to Friday's U.S. retail sales report.
The Labor Department reported that the number of people filing for initial jobless benefits in the week ending November 8 increased by 12,000 to a seasonally adjusted 290,000 from the previous week's total of 278,000.
Analysts had expected jobless claims to rise by 4,000.
The US dollar index, which tracks the performance of the greenback against a basket of six major currencies, was down 0.20% at 87.72, near lows of 87.70 reached earlier in the session.
The dollar edged up against the yen, with USD/JPY adding 0.13% at 115.68, not far from Tuesday's seven-year highs of 116.09.
The yen has come under renewed selling pressure this week amid speculation that Japanese Prime Minister Shinzo Abe could call a snap election in December.
Speculation that the prime minister could postpone a proposed sales tax increase, scheduled for October 2015 also weighed.
A win for Abe would indicate continued support for his for his economic and fiscal policies, which call for a weaker yen.
EUR/USD rose 0.39% to 1.2487, remaining supported above last Friday's 26-month lows of 1.2356.
In the euro zone, data on Thursday showed that inflation in Germany remained weak in October, indicating that the euro zone economy is still at risk from persistently low levels of inflation.
The annual rate of inflation in Germany was unchanged for the fourth straight month at 0.8% in October, but prices actually fell 0.3% from a month earlier.
A separate report showed that the annual rate of inflation in France, the euro area's second largest economy, rose to 0.5% last month, up from 0.3% in September and ahead of forecasts for 0.4%. On a month-over-month basis prices were flat.
Elsewhere, the dollar was close to 14-month highs against the pound, with GBP/USD down 0.21% to 1.5743, while USD/CHF slid 0.42% to 0.9623.
Sterling remained under pressure after the Bank of England cut forecasts for growth and inflation in its quarterly inflation report on Wednesday, prompting markets to push back expectations for a rate hike until late next year.
The Australian and New Zealand dollars remained higher, with AUD/USD rising 0.32% to 0.8744 and NZD/USD up 0.37% to 0.7909. USD/CAD edged 0.19% higher to trade at 1.1342.


Source By Breaking News Website | BreakingNews.WS