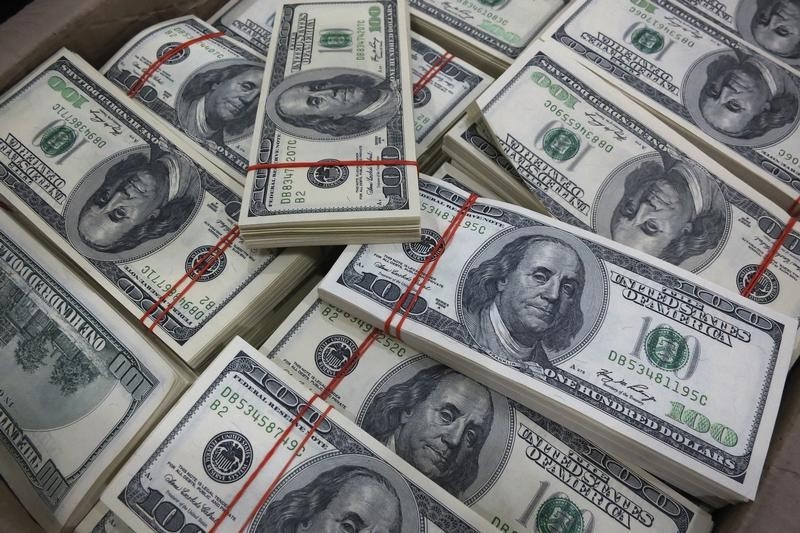 © Reuters. Dollar strengthens against rivals as markets eye U.S. data
Investing.com – The dollar rose broadly against a basket of other major currencies on Friday, as investors awaited the release of fresh U.S. economic reports later in the day after a retail sales on Thursday disappointed.
The dollar weakened on Thursday after the U.S. Commerce Department reported that retail sales fell 0.6% in February, the third consecutive monthly decline. Economists had forecast in increase of 0.3%.
At the same time the Labor Department reported that the number people filing new claims for unemployment benefits fell by 36,000 to 289,000 last week, indicating that the recovery in the labor market is continuing to strengthen.
The U.S. dollar index, which measures the greenback's strength against a trade-weighted basket of six major currencies, rose 0.29% to 99.41.
EUR/USD fell 0.21% to 1.0613, re-approaching Thursday's 12-year low of 1.0493.
The euro remained under pressure after the European Central Bank began purchasing securities on Monday as part of an asset-buying program amounting to €60 billion a month.
Concerns over the situation in Greece also weighed, as the eurogroup of finance ministers continued talks in Brussels to discuss a reform package put forward by Greece as part of its bailout review.
Greek Prime Minister Alexis Tsipras said on Thursday that the country will be able to fulfill its financial responsibilities, even if creditors don't a pay a tranche of aid.
The dollar was higher against the yen and the Swiss franc, with USD/JPY adding 0.17% to 121.49,while USD/CHF rose 0.22% to 1.0047.
Sterling lost some ground, with GBP/USD easing 0.10% to 1.4865.
AUD/USD dropped 0.60% 0.7661, while NZD/USD retreated 0.74% to 0.7335.
Elsewhere, USD/CAD gained 0.35% to trade at 1.2729.


Source By Breaking News Website | BreakingNews.WS