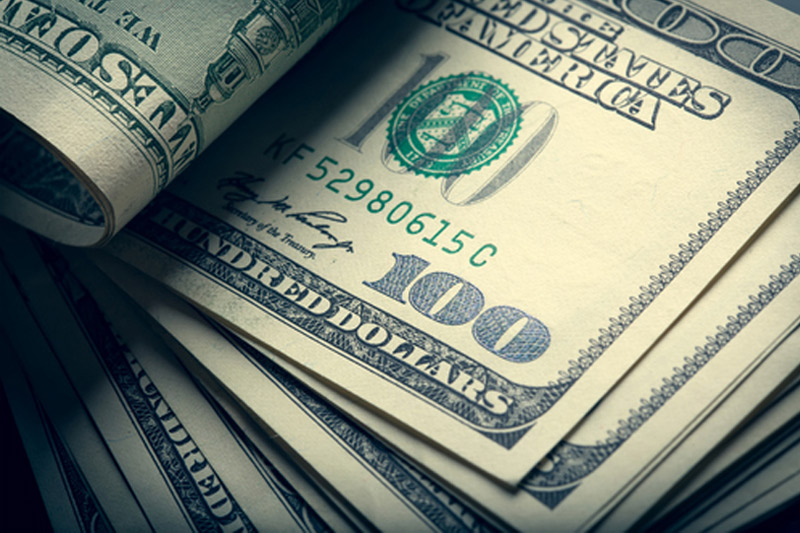 Dollar remains broadly supported, jobless data ahead
Investing.com – The dollar slipped lower against a basket of other major currencies in subdued trade on Thursday, but the greenback still remained within close distance of a four-and-a-half year high as markets eyed the upcoming release of U.S. jobless claims data.
Demand for the dollar remained supported by the diverging monetary policy outlook between the Federal Reserve and it's major peers.
Investors were eyeing U.S. data on initial jobless claims due later in the day, as well as Friday's retail sales report for further indications on the strength of the recovery.
The US dollar index, which tracks the performance of the greenback against a basket of six major currencies, edged down 0.18% to 87.74, still close to last Friday's four-and-a-half year peaks of 88.31.
The dollar re-approached seven-year highs of 116.10 against the yen, with USD/JPY steady at 115.61.
The yen came under pressure amid mounting speculation that Prime Minister Shinzo Abe could call a snap election in December.
Speculation that the prime minister could postpone a proposed sales tax increase, scheduled for October 2015 also weighed.
A win for Abe would indicate continued support for his for his economic and fiscal policies, which call for a weaker yen.
EUR/USD rose 0.27% to trade at 1.2471. But gains were held in check data showed that the annual rate of inflation in Germany was unchanged at 0.8% in October, while prices fell 0.3% from a month earlier.
A separate report showed that the annual rate of inflation in France, the euro area's second largest economy, rose to 0.5% last month, up from 0.3% in September and ahead of forecasts for 0.4%.
The data underlined concerns over persistently low levels of inflation in the euro area. The European Central Bank targets an inflation rate of close to, but just below 2%.
Meanwhile, GBP/USD was almost unchanged at 1.5765, while USD/CHF slipped 0.27% to 0.9638.
Sentiment on the pound remained vulnerable after after the Bank of England said Wednesday that inflation is likely remain below its 2% target in the near term and fall below 1% at some point during the next six months. The bank now expects inflation to take three years to return to its 2% target.
The Australian, New Zealand and Canadian dollars were broadly higher, with AUD/USD gaining 0.42% to 0.8753 and NZD/USD climbing 0.49% to 0.7918, while USD/CAD edged down 0.12% to 0.7916.
Earlier Thursday, data showed that the Business Manufacturing Index for New Zealand rose to 59.3 last month from a revised reading of 58.5 in September.
Separately, the Melbourne Institute said inflation expectations for Australia rose to 4.1% in October from 3.4% the previous month.


Source By Breaking News Website | BreakingNews.WS