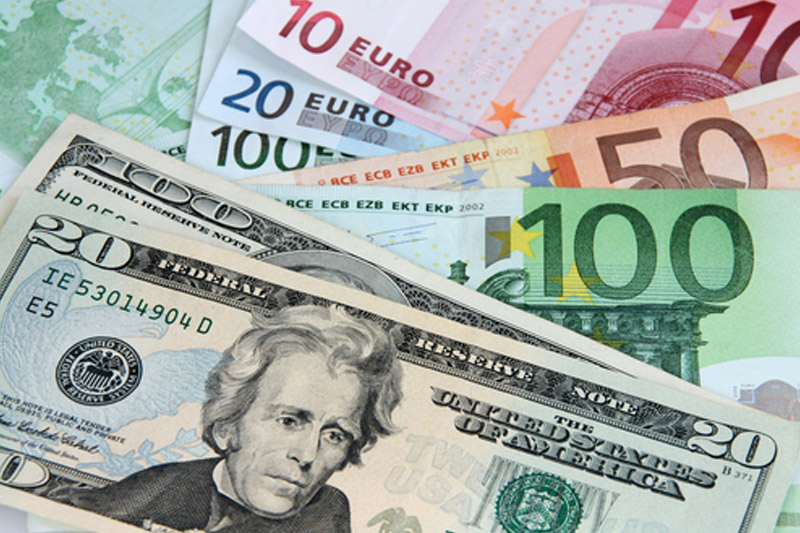 The euro edged above 1.06 on Thursday against the U.S. dollar
Investing.com — The euro appreciated slightly against the U.S. dollar on Thursday afternoon, halting one of the steepest, most abrupt slides in recent memory after data released earlier in the day revealed an unforeseen decline in U.S. retail sales last month.
EUR/USD gained .0059 or 0.56% to 1.606 in U.S. afternoon trading, after four consecutive days of precipitous declines, following the release of better than expected U.S. jobs data last Friday. The creation of 295,000 new U.S. jobs in February and a lower unemployment rate has fueled concerns that the Federal Reserve could hike interest rates before the end of June.
The report coincided with the start of the European Central Bank's €60 billion a month bond buying program on Monday that has caused bond yields to plummet to record-lows.
On Thursday, the pair rarely dropped below Wednesday's close of 1.0547, as the U.S. data painted a bleaker picture than previously had been expected. In U.S. morning trading, EUR/USD spiked to 1.067 after the U.S. Commerce Department reported that retail sales dropped 0.6% in February before dropping modestly for the remainder of the day. While the figure decreased for the third consecutive month, economists had only forecasted a decline of 0.3% for the month.
Shortly after, a separate report indicated that core retail sales excluding automobiles, gasoline and food remained virtually unchanged one month after experiencing a 0.1% decline in January.
U.S. imports, meanwhile, grew by 0.4% for the month to break a seven-month streak of declines. The report noted, however, that inflationary pressures were softened because of lower petroleum prices.
In addition, the U.S. Labor Department reported that new claims for unemployment benefits fell by 36,000 to 289,000 last week providing an indication that the labor market is continuing to tick upward.
In Europe, meanwhile, borrowing costs for Spanish sovereign debt slipped below 1% for the first time ever. The yield hovered between a daily-low of 0.984 and 1.041% — down approximately four basis points from Wednesday's close. This week, yields have fallen sharply on German, French, Belgian and Spanish 10-year bonds as the European Central Bank began its ambitious quantitative easing.
Through the first three days of the program, the ECB purchased approximately €9.8 billion in sovereign debt, according to multiple media reports.
The U.S. Dollar Index, which measures the strength of the greenback against a basket of six other major currencies, edged closer to 100 before falling back to 99.31 (-0.33%).
Earlier in the week, the index posted its second-highest, short-term appreciation in more than 40 years.


Source By Breaking News Website | BreakingNews.WS