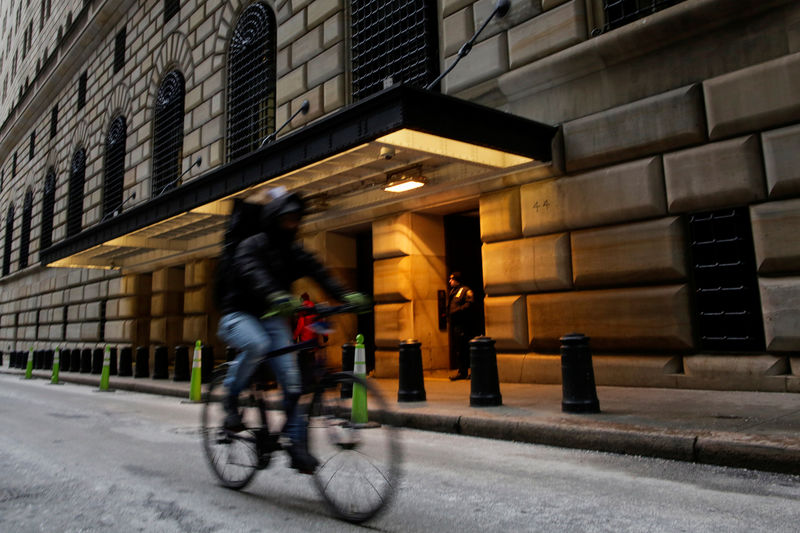 © Reuters. Fed Plans More Term Repo Actions to Curb Year-End Turmoil
(Bloomberg) — The Federal Reserve Bank of New York announced plans to conduct repurchase-agreement operations within the second half of December that will span January.
It will now conduct term operations totaling $365 billion, the New York Fed said on its website. The Dec. 16 operation is a 32-day offering with a maximum limit of $50 billion, while the other term actions range from 13 to 15 days with a maximum size of $35 billion, tenors it has used previously.
The central bank also plans to adjust the size of some of its overnight repo operations to provide additional liquidity for year-end. While the offering size will remain mostly unchanged at $120 billion, it plans to conduct a one-day forward settlement operation of $75 billion on Dec. 30 that settles on Dec. 31 and matures Jan. 2. The New York Fed will also increase the sizes of the overnight actions to $150 billion on Dec. 31 and Jan. 2.
The Fed has been conducting repo offerings and Treasury-bill purchases in a bid to keep control of short-term interest rates and bolster bank reserves. And while that has calmed markets since the September spike that took overnight repo rates as high as 10%, concerns about the year-end period remain and participants have been flocking to Fed term offerings that will carry them through to January.
Fed Chairman Jerome Powell said Wednesday the central bank stands ready to adjust details of its repo operations as appropriate to keep the fed funds rate within the central bank's target range.
The New York Fed also announced its plans for Treasury-bill buying that it's conducting as part of its reserve management regime, keeping the pace of purchases unchanged at $60 billion per month.
(Updates with details on T-bill purchases.)


Source By Breaking News Website | BreakingNews.WS