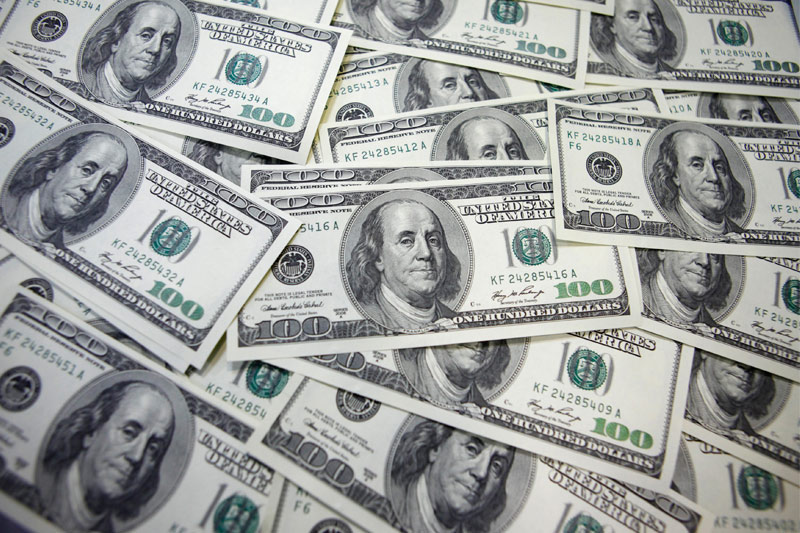 Investing.com – The dollar strengthened against most major currencies on Wednesday after investors shrugged off downward revisions to first-quarter U.S. growth rates.
Better-than-expected consumer confidence, factory and housing data released earlier this week stoked already growing expectations that the Federal Reserve will soon begin to scale back stimulus programs.
Monetary stimulus tools such as the Fed's monthly USD85 billion bond-buying program weaken the dollar to spur recovery, and talk of their dismantling can strengthen the U.S. currency.
In U.S. trading on Wednesday, EUR/USD was down 0.53% at 1.3011.
The euro weakened after European Central Bank President Mario Draghi said any ECB plan to adjust loose monetary policy "remains distant" but added that the bank expects a "gradual recovery" by the end of this year.
Meanwhile in the U.S., the Commerce Department said gross domestic product expanded at an annual rate of 1.8% in the three months to March, below an earlier estimate of 2.4% growth. Economists had expected the growth rate to remain unchanged at 2.4%.
The report said consumer spending was revised down from 3.4% to 2.6%.
The numbers briefly dampened hopes for the Federal Reserve to scale back stimulus measures, though confidence such programs are on their way out quickly returned and sent the greenback gaining, especially in wake of recent manufacturing, confidence and housing-sector reports that beat expectations.
U.S. consumer confidence, for example, rose to its highest level since January 2008 this month.
The Conference Board said on Tuesday that its index of U.S. consumer confidence rose to 81.4 in June from 74.3 in May, well above expectations for a reading of 75.4.
Elsewhere, Germany's Gfk consumer climate rose unexpectedly, data showed.
In a report, research group Gfk said that its forward-looking index of Germany's consumer climate rose to 6.8 looking forward to July from 6.5 for June.
Analysts had expected Gfk consumer climate to remain unchanged at 6.5 last month.
The greenback was up against the pound, with GBP/USD trading down 0.63% at 1.5325.
The dollar was up against the yen, with USD/JPY up 0.06% at 97.84, and up against the Swiss franc, with USD/CHF trading up 0.50% at 0.9428.
The dollar was down against its cousins in Canada, Australia and New Zealand, with USD/CAD down 0.41% at 1.0471, AUD/USD up 0.21% at 0.9280 and NZD/USD trading up 0.69% at 0.7794.
The dollar index, which tracks the performance of the greenback versus a basket of six other major currencies, was up 0.48% at 83.18.
On Thursday, the U.S. is to release the weekly government report on initial jobless claims along with data on personal income and expenditure, which is to be followed by private sector data on pending home sales.


Source By Breaking News Website | BreakingNews.WS