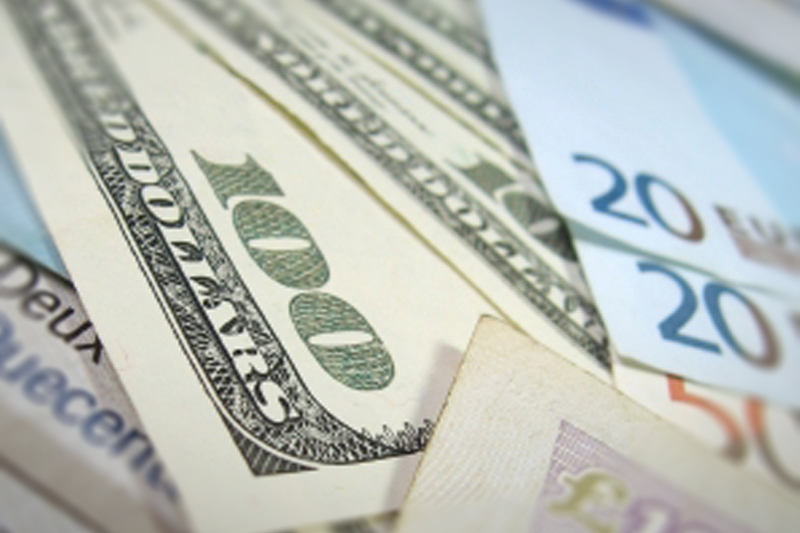 Euro slides against dollar in quiet trading, with Portugal fears softening single currency
Investing.com – The euro edged lower against the dollar on Friday in a session void of major economic indicators, though Thursday's disappointing European factory gauges continued to weigh on the single currency.
In U.S. trading, EUR/USD was down 0.05% at 1.3601, up from a session low of 1.3592 and off a high of 1.3624.
The pair was likely to find support at 1.3589, Thursday's low, and resistance at 1.3651, Thursday's high.
Disappointing euro zone factory data released Thursday continued to water down the euro on Friday.
Italy's industrial output unexpectedly fell 1.2% in May from April, defying expectations for a 0.2% expansion, while French industrial production plunged 1.7% in May, also confounding expectations for a 0.2% gain.
Financial concerns also pressured the euro down against the dollar.
The parent company of Portugal's largest bank, Banco Espírito Santo, said it missed payments on commercial paper to a few clients, which spooked markets by fueling concerns surrounding the soundness of the banking sectors in Portugal as well as in Spain and Italy.
Meanwhile in the U.S., solid jobless claims numbers released on Thursday managed to edge the greenback over the euro on Friday.
The U.S. Department of Labor reported earlier that the number of individuals filing for initial jobless benefits in the week ending July 5 declined by 11,000 to 304,000. Analysts had expected jobless claims to hold steady at 315,000 last week.
Elsewhere, the euro was up against the pound, with EUR/GBP up 0.11% at 0.7952, and down against the yen, with EUR/JPY down 0.08% at 137.80.


Source By Breaking News Website | BreakingNews.WS