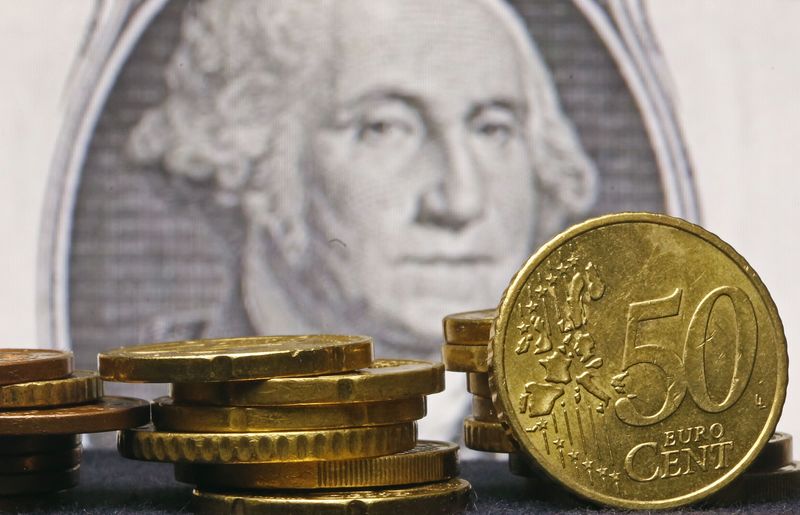 © Reuters. Euro pushes higher vs. dollar after euro zone CPI report
Investing.com – The euro extended gains against the U.S. dollar on Friday, boosted by the release of upbeat euro zone inflation data and as demand for the greenback remained under pressure after Thursday's weak U.S. economic reports.
EUR/USD hit 1.0840 during European early afternoon trade, the pair's highest since April 8; the pair subsequently consolidated at 1.0839, up 0.73%.
The pair was likely to find support at 1.0622, Thursday's low and resistance at 1.0957, the high of April 7.
The euro strengthened after revised data showed that euro zone consumer price inflation rose 1.1% last month, in line with expectations and up from a preliminary estimate of 0.6%. Euro zone inflation declined by 0.3% in February.
The rate grew closer to the European Central Bank's target of near but just below 2%.
Core CPI, which excludes food, energy, alcohol, and tobacco costs rose 1.4% in February, up from an initial estimate of 0.6%.
The single currency had been under pressure since the European Central Bank said Wednesday it expects to fully implement its trillion euro quantitative easing program.
Meanwhile, the dollar remained under pressure after the U.S. Department of Labor reported on Thursday that the number of individuals filing for initial jobless benefits increased more than expected to 294,000 last week.
Separately, the U.S. Commerce Department said that the number of building permits issued in March declined by 5.7% last month to 1.039 million units.
The weak data fuelled further speculation that the Federal Reserve could delay hiking interest rates until late 2015, instead of tightening midyear.
The euro was steady against the pound, with EUR/GBP at 0.7205.
Later in the day, the U.S. was to release data on consumer prices and consumer sentiment.