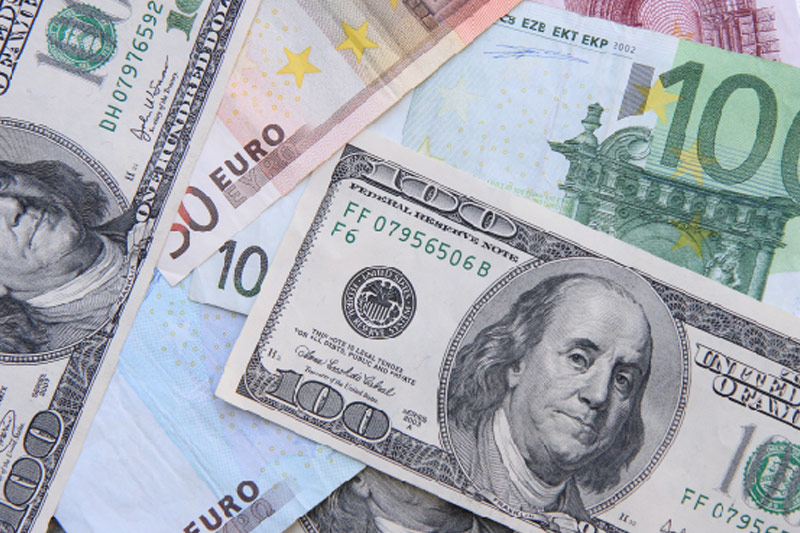 Euro pulls away from session highs vs. greenback after positive U.S. data
Investing.com – The euro pared gains against the U.S. dollar on Friday, as a strong U.S. consumer sentiment report lent support to the greenback, while earlier euro zone inflation data continued to boost the single currency.
EUR/USD pulled away from 1.0849, the pair's highest since April 8, to hit 1.0771 during U.S. morning trade, still up 0.10%.
The pair was likely to find support at 1.0622, Thursday's low and resistance at 1.0888, the high of April 8.
In a preliminary report, the University of Michigan said its consumer sentiment index rose to 95.9 this month from 93.0 in March, beating expectationd for a reading of 94.0.
The UoM also said its inflation expectations for the next 12 months ticked down to 2.5% in April from 3.0% the previous month.
The data came after the U.S. Bureau of Labor Statistics said that consumer prices rose 0.2% last month, confounding expectations for an increase of 0.3%, after a 0.2% uptick in February.
Year-on-year, U.S. consumer prices fell 0.1% in March, compared to expectations for a 0.1% rise, after a flat reading the previous month.
Core consumer prices, which exclude food and energy, rose 0.2% last month, in line with expectations and after a 0.2% gain in February.
The euro remained supported however, as revised data earlier showed that euro zone consumer price inflation rose 1.1% last month, in line with expectations and up from a preliminary estimate of 0.6%. Euro zone inflation declined by 0.3% in February.
The rate grew closer to the European Central Bank's target of near but just below 2%.
Core CPI, which excludes food, energy, alcohol, and tobacco costs rose 1.4% in February, up from an initial estimate of 0.6%.
The single currency was lower against the pound, with EUR/GBP slipping 0.18% to 0.7193.