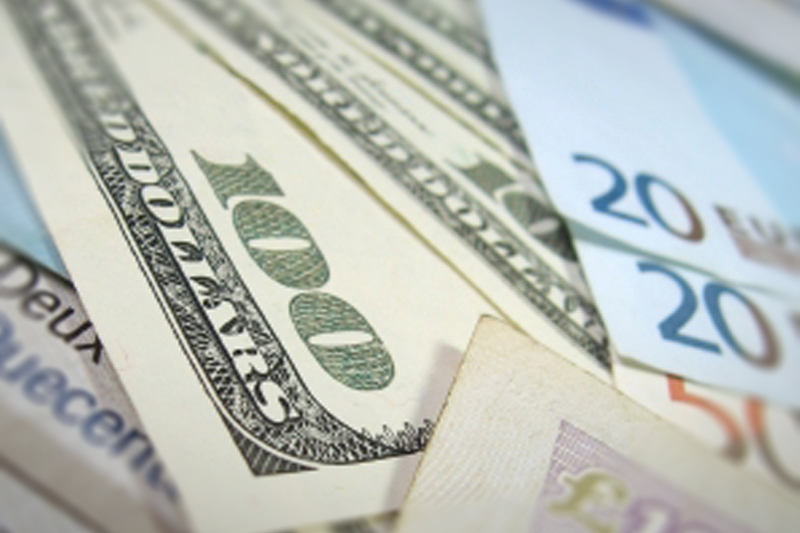 Euro sides towards 26 month lows against stronger dollar
Investing.com – The euro slipped against the dollar on Tuesday, nearing recent 26 month lows as expectations that the recovery in the U.S. will outperform other major economies underpinned dollar demand.
EUR/USD slipped 0.15% to 1.2399, not far from last Friday's lows of 1.2356, the weakest since August 2012.
The dollar slid in the previous two sessions after Friday's softer than expected U.S. jobs report prompted a bout of profit taking to lock in gains after the greenbacks recent run higher.
The dollar has rallied over the past two months as broadly stronger economic data fuelled expectations that the Federal Reserve will raise interest rates sometime in 2015.
In contrast, central banks in Japan and the euro zone are likely to stick to a looser monetary policy stance in a bid to spur growth and inflation.
The European Central Bank reiterated its pledge late last week to implement further stimulus measures if needed to combat persistently low levels of inflation in the euro area.
Concerns over the outlook for the euro zone mounted on Monday after weak Italian data fuelled fears that its economy is falling back into a recession.
The euro was higher against the softer yen, with EUR/JPY rising 0.89% to 143.86, nearing last Thursday's 11-month highs of 144.20.
Speculation that Japan's government may postpone a planned sales tax increase boosted risk appetite and fuelled strong gains in Asian equities overnight, curbing safe haven demand for the yen.
Data on Tuesday showing that Japan posted an unexpectedly large current account surplus of ¥963 billion in September, boosted by the weaker yen, also supported risk appetite.
Elsewhere, USD/JPY hit highs of 116.10, the most since October 2007 and was last up 1.01% to 115.99.


Source By Breaking News Website | BreakingNews.WS