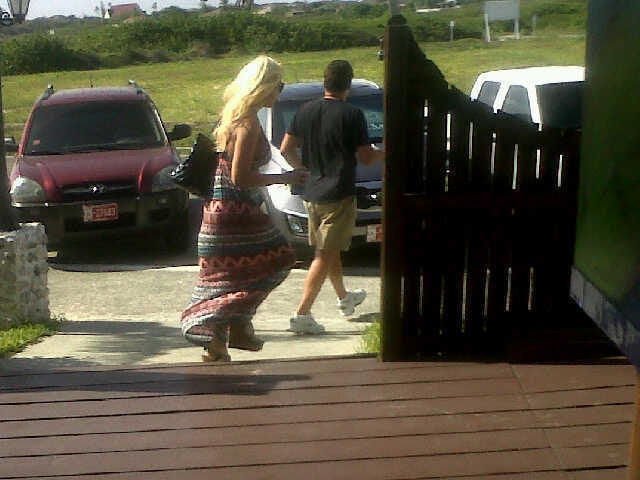 As authorities began their search earlier this month for missing American tourist Robyn Gardner, the man suspected in her disappearance allegedly looked at his watch and told investigators: "She might be dead now."
That remark is one of several strange statements attributed to Gary Giordano — the lone suspect in Gardner's disappearance — that were published in a new ABC News report.
Some things Giordano told local police have been contradicted by witnesses. The Maryland businessman allegedly told investigators in Aruba that he and his travel companion hadn't ordered any drinks at the Rum Reef Bar & Grill, where they were spotted on the afternoon of Aug. 2, just before Gardner went missing.
WATCH:
However, witnesses have stated that Gardner appeared woozy during her meal, and Giordano seemed inebriated when speaking with police later that afternoon.
Sources told ABC News the pair drank vodka at the restaurant and that investigators even delayed questioning Giordano because he was so drunk.
Three days after Gardner's disappearance, Giordano allegedly called the missing 35-year-old's mother Andrea Coulson to tell her that he had just gotten his shoes and socks wet looking for her. Coulson told ABC that she thought Giordano's phone call was bizarre.
Giordano insists that Gardner was pulled out to sea by strong currents while they snorkeled off Baby Beach. Through his attorney, Giordano has denied any wrongdoing. Gardner is presumed to be dead by investigators.
The pair reportedly met on an online dating website, but were platonic, according to Gardner's friends.
Gardner had recently lost her job as a dental assistant and agreed to take the trip. Before she left, she told her boyfriend, Richard Forester, that she would be traveling with her family.
Prior to the vacation, Giordano reportedly took out a $1.5 million insurance policy on Gardner, which he allegedly attempted to cash out after her disappearance.
Giordano has not been charged with a crime and could be released as early as Tuesday pending a judge's decision to extend his detainment, according to ABC News.
SEE MORE PHOTOS FROM THE CASE OF ROBYN GARDNER:


Source By Breaking News Website | BreakingNews.WS