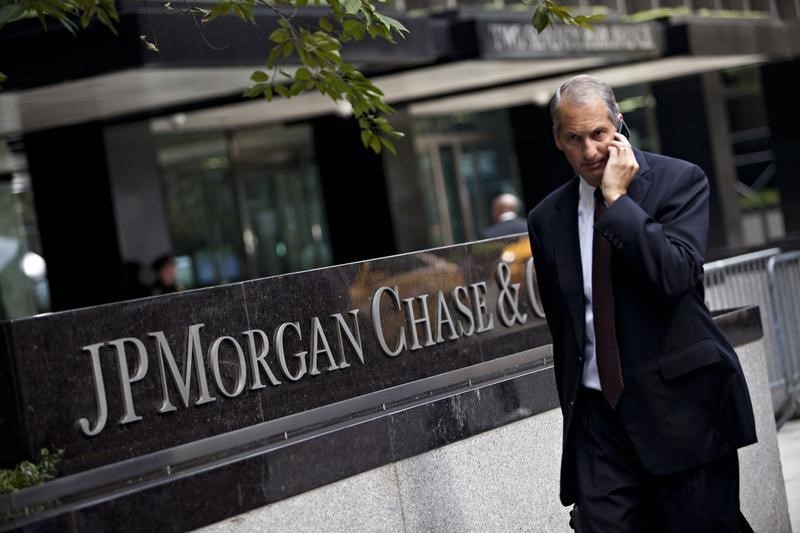 © Reuters.
By Geoffrey Smith
Investing.com — JPMorgan Chase's (NYSE:JPM) earnings blew past expectations in the final quarter of 2019, rising 30% from a year earlier to $2.57 a share, a full 10% above consensus forecasts.
Revenue likewise far exceeded expectations, rising 9% on the year to $29.21 billion.
Analysts polled by Investing.com had anticipated EPS of $2.35 on revenue of $27.87 billion.
The results were helped by an 8% increase in consumer loans, reflecting the sustained strength of U.S. spending.
"The U.S. consumer continues to be in a strong position and we see the benefits of this across our consumer businesses," chairman and CEO Jamie Dimon said in a statement.
The bank's corporate and investment bank also chipped in handily, with total markets revenue rising 56% on the year to $5.0 billion.
Reported net income edged down from the previous quarter to $8.5 billion, due in part to the sale of home loans.
Return on tangible common equity, a core measure of profitability, was 17% – down from 18% in the previous quarter but up from 14% in the final quarter of last year, which was marked by extreme volatility in global markets.
"JPMorgan (NYSE:JPM) is continuing to see strength in its consumer and investment banking units," said Haris Anwar, an analyst with Investing.com. "Although a low interest-rate environment going forward may not help the lender after three rate cuts by the Fed, it could still fuel loan expansion, helping JPM in increasing its lending activity."
"As long as the economy and consumer spending remain robust, there is no major threat to the U.S. lenders, including JPMorgan (NYSE:JPM)," he added.
JPMorgan's shares were up 1.8% in premarket trading after the results, just shy of the record high of $141.10 that they hit at the start of the year. The shares have risen 30% since August, as the threat of a U.S. recession has dimmed.
Earnings from Wells Fargo (NYSE:WFC) and Citigroup (NYSE:C) are also expected before the open.


Source By Breaking News Website | BreakingNews.WS