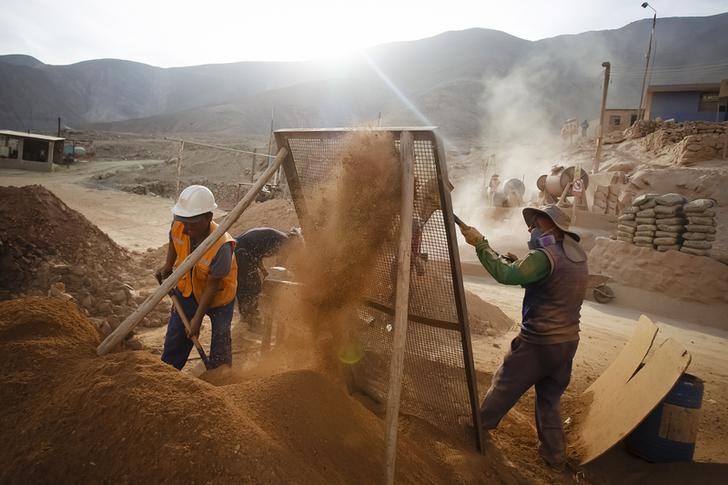 © Reuters. Peru Holds Rate as Economy Withstands Political Turmoil
(Bloomberg) — Explore what's moving the global economy in the new season of the Stephanomics podcast. Subscribe via Pocket Cast or iTunes.
Peru's central bank kept borrowing costs unchanged amid signs economic growth is accelerating despite domestic political turmoil and global trade tensions.
The central bank board, led by its President Julio Velarde, held the benchmark lending rate at 2.50% on Thursday. Seven of 14 economists surveyed by Bloomberg expected no change while seven forecast a quarter-point cut.
Non-primary segments of the economy began to pick up in July after a poor first half of the year and non-primary activity continues to recover, the bank said in a statement that accompanied its decision. Policy makers indicated they're willing to boost stimulus if necessary after previously cutting rates to a nine-year low.
Preliminary data suggest growth accelerated in the third quarter, bolstering the case for the central bank to keep borrowing costs unchanged as it gauges the strength of the rebound. Government officials have also expressed confidence the economy will hold up after President Martin Vizcarra's decision to dissolve Congress and call parliamentary elections.
Read more: Peru Shuts Congress, Triggers a Constitutional Crisis: QuickTake
"Monetary policy is already very expansive, so they're not in any hurry to cut," Mario Guerrero, an economist at Scotiabank Peru in Lima, said before the announcement.
Velarde said Wednesday the economy likely grew close to 4% in August, the fastest pace this year, accelerating for a fourth consecutive month on a recovery in non-primary segments such as hydrocarbons. His comments came after the central bank cut its forecast for 2019 economic growth on Sept. 27 and said its 2% inflation projection has a downward bias.
Companies have also become more optimistic about economic prospects, following six months of declining business sentiment, according to the central bank's latest survey. Private investment is estimated to have grown at an annual clip of 7% in the third quarter, the strongest pace this year, Finance Minister Maria Alva said Wednesday.
A recovery in public works spending last month is expected to continue through year-end, according to the central bank's statement.
Meanwhile, tame consumer prices give the monetary authority room for rate reductions if necessary. Annual inflation eased in September to 1.85%, the slowest pace in 11 months. Inflation expectations for this year and next year declined, according the central bank's September survey of analysts.
Policy makers target inflation at 2%, plus or minus one percentage point.
(Adds central bank's comment in third paragraph)


Source By Breaking News Website | BreakingNews.WS