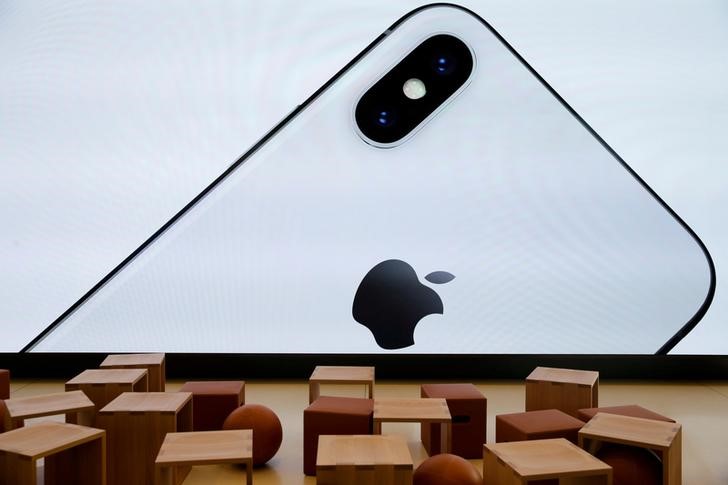 © Reuters.
Investing.com – Apple (NASDAQ:AAPL) may be the new kid on the streaming block with its planned launch of Apple TV next month, but that hasn't stop analysts on Wall Street endorsing the tech giant's potential to rake in subscribers, pushing its shares to a record high on Friday.
Wedbush raised its price target on Apple (NASDAQ:AAPL) to $265 from $245, on expectations that Apple could scoop up as many as 100 million streaming consumers over the next three-to-four years. Apple) rose nearly 2% to an all time intraday high of $235.16, above its previous intraday record of $233.47. The stock is on track to set a new closing high after closing at $230.09 on Thursday.
The shares are up nearly 49% this year after dropping more than 30% in the 2018 fourth quarter alone. From the stock's 52-week low of $142, reached on Jan. 3, the shares are up 65%.
"With some 900 million active iPhones globally, Apple could get 100 million streaming consumers in 3 to 4 years, Wedbush analyst Daniel Ives said in a note. That could "disrupt roughly 10% of target customer base within the next 12 to 18 months," Ives added.
The road to record highs for Apple has also been paved by signs that demand for its latest slate of iPhones is firmer than many had expected.
Apple reportedly asked its suppliers to increase production by up to 10%, or 8 million units, Nikkei reported last week. The uptick in production has been driven by better-than-expected demand, according to Wedbush.
"China as a region is currently one of the main catalysts of demand for the iPhone 11 and is tracking roughly 20% ahead of plan, which is a surprise to many investors in light of the current UFC trade battle between the US and China with pro Huawei and competitive worries abound," Wedbush said.
Ahead of the release of the latest iPhones, some on Wall Street had expected demand for the latest iPhones would be weak on expectations that consumers are waiting for a 5G model of the phone.
But that proved somewhat of a misstep, forcing many on Wall street including Nomura, Canaccord and Longbow Research to upgrade their outlook on the iPhone maker.


Source By Breaking News Website | BreakingNews.WS