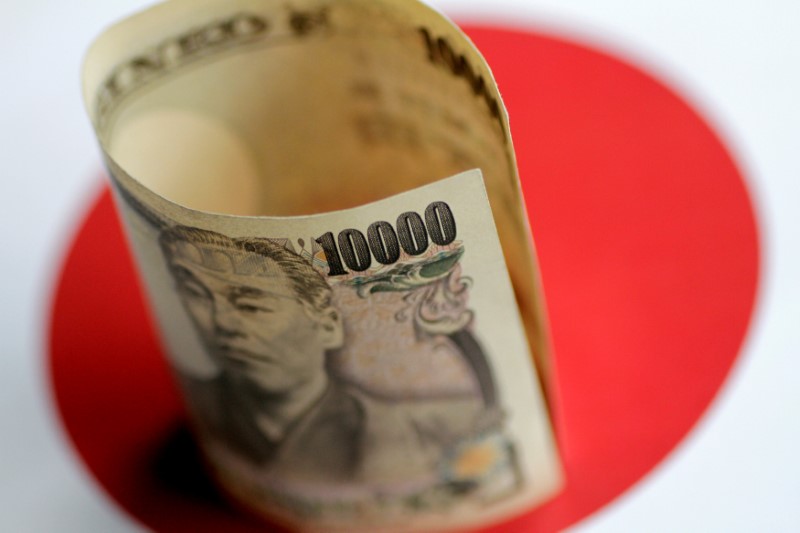 © Reuters.
Investing.com – The yen rose on Thursday as concerns over the economic fallout from the escalating U.S.-China trade war and the looming prospect of a no-deal Brexit drove investors into assets perceived as less risky.
The dollar slid 0.17% to 105.90 per yen by 03:01 AM ET (07:01 GMT).
The Japanese currency also gained against the Australian dollar and New Zealand dollar, which hit a four-year low as business sentiment weakened.
Overnight, ANZ Bank's closely-watched survey of business sentiment showed deepening weakness in both activity and confidence, indicating that aggressive cuts in interest rates are yet to gain any traction.
The U.S. dollar index, which tracks the greenback against a basket of its peers, was last at 98.12.
The latest round of trade war tariff hikes takes effect on Sunday, with Washington set to levy an extra 5% tariff – announced by President Donald Trump on Twitter last week – on $300 billion in Chinese imports.
Retailers across the U.S. warned on Wednesday of price hikes and braced for job losses as a result.
Investors were also watching the inverted U.S. Treasury yield curve, in which long-dated yields are lower that short-dated ones, commonly considered a sign of future recession.
The British pound was holding steady at 1.2206, as the most serious U.K. political crisis in decades deepened after Prime Minister Boris Johnson decided to suspend Britain's parliament for more than a month before Brexit.
The move will limit the time opponents have to derail a disorderly Brexit but also increases the chance that Johnson could face a vote of no-confidence in his government, and possibly an election.
"From an economic point of view, actively pursuing a no-deal Brexit through suspending parliament is tantamount to actively pursuing a recession," said Seema Shah, Chief Strategist, Principal Global Investors in London.
Concerns about Brexit are already taking a toll on Europe, with the recent export slump in Germany driven mainly by weaker sales to Britain rather than the broader trade war.
The euro was steady against the dollar at 1.1081 and was a touch higher against sterling at 0.9079.
–Reuters contributed to this report


Source By Breaking News Website | BreakingNews.WS